Research & Development Facilities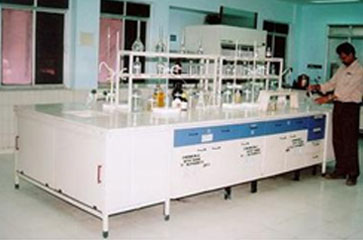 Sun Minerals manufacturer exporter & supplier strongly emphasizes on quality control via its research and development. It has the most accurate and reliable scientific instruments required to test the material and maintain its standards. Qualified and efficient chemists are employed to complement the available highly sophisticated laboratory.
Our laboratory boasts of the most accurate & modern scientific testing equipments to carry out a whole range of physical & chemical tests which include spectrophotometer, particle size analyzers, hi-temp furnace, sieve shakers, pot mill, computerized balance etc.
Potash Feldspar manufacturer in Rajasthan, Potash Feldspar exporter in Rajasthan, Potash Feldspar exporter in India,Potash Feldspar in IndiaNon Metallic Minerals in Rajasthan India,Exporter of Non Metallic Mineral in India, Quartz Powder India, Silica feldspar India, Talc powder India, Potash feldspar India, Potassium feldspar India, Sodium feldspar India
We are continuously doing research to provide our customers the best of all non-metallic minerals range.