Potassium Feldspar "Sun Ultra" Minerals India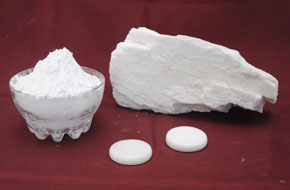 Sun Minerals, a pioneer in the field of providing new definitions to the concepts of all kind of flooring, introduces its new revolutionary product "Sun Ultra". "Sun Ultra" provides a unique alternate to the costly marble flooring by replacing with porcelain/ vitrified tiles. By the use of "Sun Ultra" in manufacturing of porcelain/ vitrified tiles a manufacturer can changes the look of its product by giving exclusive whiteness and shining.
"Sun Ultra" with its unique combination of contents and manufacturing process makes itself superior in fusibility and fluxing properties and low absorption of water. Micro contents of Iron and titonio provides super whiteness to "Sun Ultra"
The super whiteness of "Sun Ultra" is emphasized by controlled and cared sorting and separations of all foreign particles at the primary Levels of production resulting of which makes it completely free from all impurities.
Potassium Feldspar manufacturer in Rajasthan, Potassium Feldspar exporter in Rajasthan, Potassium Feldspar exporter in India,Potassium Feldspar in India
| | | |
| --- | --- | --- |
| | Products | "SUN ULTRA" |
| Silica | SiO2 | 68% (+/- 1%) |
| Alumina | Al2O3 | 18% (+/- 1%) |
| Ferric Oxide | Fe2O3 | 0.07% |
| Titanium Oxide | TiO2 | Nil |
| Sodium Oxide | Na2O | 3% (+/- 0.5%) |
| Potassium Oxide | K2O | 10.5% (+/- 1%) |
| Magnesium Oxide | MgO | 0.1% |
| Calcium Oxide | CaO | 0.05% |
| Loss on Ignition | LOI | 0.01% |
| Firing Result | | Milky |
| Visual Apperance | | White |